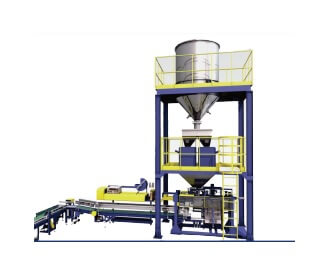 Automatic Open Mouth Bag Machine
Automatic Multi-Scale Valve Bag Machine
DNC Automation is one of the Malaysia leading manufacturers and suppliers of industrial bagging machines. With one of the largest product portfolios in the industry, DNC Automation can provide bagging machines for almost any kind of bag. DNC Automation offers a comprehensive product portfolio, including manual bagging machines, valve bag fillers, open mouth bagging machines, compression baggers, bulk bag fillers, form fill & seal bagging machines, etc. This wide variety of bagging solutions allows to bag powders, granules, flakes, fibrous materials and large particles.
In addition to its bagging machines, DNC Automation also manufactures and sells bag palletizers, stretch wrappers and stretch hooders. We offer the complete line.No matter the size of your project, your budget or the type of bag, DNC Automation can provide you with a bagging machine that will perfectly fit your needs.
We are dedicated to providing our customers with perfect solutions for automatic bagging solutions free flowing bulk goods. We supply the high-quality standard of machines, which is valued by our customers.
Whether it's plastic pellets, rice, grain, sugar, animal feed, pet food or fertilizer, the product range offers top-quality customer-focused solutions. The open-mouth bagging systems are designed for polyethylene (PE), woven polypropylene (PP) and paper bags with a filling weight of 5 kg to 50 kg.
The palletizing of bags and boxes of any type is made possible fully automatic palletizing system by Comau Robot form Italy, Manual and semi-automatic bagging systems, Bulk Bag Stations, Sealing machine, check weighers and the latest bag closing-systems round off the extensive product portfolio of DNC.