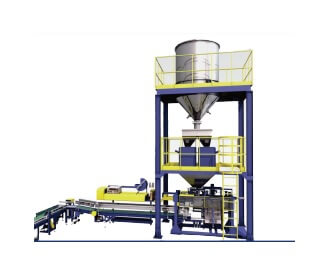 Automatic Open Mouth Bag Machine
Automatic Multi-Scale Valve Bag Machine
We are dedicated to providing our customers with perfect solutions for automatic bagging solutions free flowing bulk goods. We supply the high-quality standard of machines, which is valued by our customers.
Whether it's plastic pellets, rice, grain, sugar, animal feed, pet food or fertilizer, the product range offers top-quality customer-focused solutions. The open-mouth bagging systems are designed for polyethylene (PE), woven polypropylene (PP) and paper bags with a filling weight of 5 kg to 50 kg.
The palletizing of bags and boxes of any type is made possible fully automatic palletizing system by Comau Robot form Italy, Manual and semi-automatic bagging systems, Bulk Bag Stations, Sealing machine, check weighers and the latest bag closing-systems round off the extensive product portfolio of DNC.